I don't watch much television but I am aware of the hype and the huge following that "The Apprentice" with Sir Alan Sugar has.  My partner Pat is a huge fan and tries to watch the show every week.
Last night I happened to be in the room whilst she watched the latest dismissal and the big "You're Fired" moment.
I have only seen this twice before so I knew what went on and always felt you could learn a lot about watching the potential "ex-Apprentices" squirm under the grilling that Sir Alan gives them in the boardroom.
Last night was no exception and it was interesting to see Michael battle for his survival (I really thought he had blown it – I did not watch the task but it seemed he cheated and had used underhand tactics!).
However not only did Sir Alan NOT fire Michael but he got rid of red head Jennifer AND the Irish Jennifer.  I thought they were only supposed to get rid of one a week!  Still he is the boss and he can do what he likes and I suppose it makes for great television.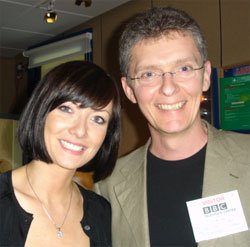 Anyway as Irish Jennifer (Maguire) left the boardroom and made her way to the taxi I commented to Pat that I would love to meet her.
Well lo and behold I turn up at the BBC today and who is in with Nihal before me but BOTH Jennifers.  Well not being one to miss an opportunity I introduced myself to Jennifer Maguire when she came out of the studio, had a quick chat with her and got a photograph taken.
What a lovely person she is and I don't think what I saw on the TV last night did her justice at all.
I haven't been following the Apprentice at all and so I have no idea how she has come across in the rest of the series but take it from me, not only is she really attractive, but she has an extremely attractive personality too and despite missing out on the coveted Apprentice spot, I sense she will go on to be very successful in whatever she does.
Good luck Jenny.