I have always admired those people who were described as "award winning" in their particular field.
It says to me that the person has achieved something of note but has been recognised by an organisation separate from themselves.
Last year I went to an Academy of Chief Executives Speaker Showcase to give a flavour of one of my topics and despite being given the toughest slot (the very last one of the day!) I was voted the top speaker for that event after competing against some really amazing speakers.
A year working with Academy groups, honing my session and developing my ideas meant that by the end of the year I had a really good programme (even if I do say so myself!) showing senior people how to release an hour a day. You can find out more at my Hour a Day Workshop website.
At then at the end of last year I had a call from Phil Jesson, Head of Speaker Development for the Academy, telling me that I won the Best New Speaker category of their annual awards.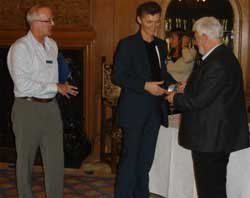 I must say I was shocked but incredibly pleased and proud because not only are the Academy groups challenging audiences, the quality of my fellow speakers is extremely high.
So at the end of last year, I attended the annual awards ceremony to receive my Best New Speaker award from Brian Chernett (see the picture above).
Of course another year goes by and other speakers are in the frame to receive this year's prizes.
They will be presented at the November Academy Speaker's showcase and once again they have honoured me by inviting me to co-facilitate the day with that great speaker, John Cremer.
So if you are attending that event, I look forward to seeing you there. If you are not but you are looking for a great speaker, then on November 17th this year, 30 of the UK's leading experts in their chosen fields who happen to be great speakers too, will be gathered together in one place.
Find out who is going to be there and make your pick from that list. You won't go far wrong.