I told you in a recent post about my new book that is going to be published next year.  Well this morning I received the artwork for the cover and I thought I'd take this opportunity to give you a sneak preview of what the cover will look like (but you must promise not to tell anyone!)
I haven't asked my publisher yet whether I can show you what the cover will be but I am sure if I am not allowed to they will tell me pretty quickly and I'll take it down if I have to.  So in the meantime, take a sneak preview of the cover which you will see below (you may need to click on the "more" link).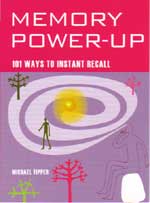 So what do you think?  It's a bit pink and purple – not necessarily my favourite colours but in this case I think I will make an exception because I think the cover looks quite good.
I am still not sure about the title but that's what the publisher has sold it on and so that is what it will be called.
I really enjoyed writing it because for the first time I was able to condense my knowledge of memory from all of the research I have done and combine it with the personal distinctions I have made.  It will be avery useful framework for me as I put together my online memory improvement course that I expect to publish before Christmas – watch this space for announcements about that in the near future.